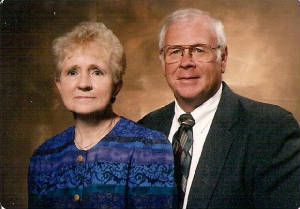 Steve was raised on a large cattle ranch in Northeastern Oklahoma. It was in 1954 after moving to Nowata, Oklahoma that he was saved in a VBS at First Baptist Church. It was in First Baptist Church of Nowata that he was not only saved and baptized, but where he was licensed and ordained to preach the Gospel. He has a Bachelor of Biblical Studies Degree and a Master of Ministry Degree in Biblical Counseling from Andersonville Theological Seminary. He has membership in the Oklahoma Conference of Southern Baptists Evangelist.
He and his wife, Mary met in 1959 and were married in 1960. They have two children and many grand children as well as great grand children and great great grandchildren.
Before his surrendering to the preaching ministry, he taught teenage boys in Sunday School. While working for a large oil equipment manufacture, he felt the call into evangelism to ranchers and cowboys. In 1979, he started pastoring the First Baptist Church of Lenapah, Ok. He remained pastor for a little over 10 years, where the church grew, and never had a year without baptisms! While he was pastoring the church, God opened a door into the evangelism field he felt called into. He joined an organization called The Ranchmen's Camp Meetings of Southwest that held Cowboy Tent Revivals in five states. For 17 years he worked with them, and the last 12 years was the President and General Manager. In 2000, he resigned and started Steve Cody Ministries, and since that time has done numerous cowboy tent meetings, church revivals, and other ministries in not only the United States but also Honduras and Mexico. He and Mary travel together in a fifth wheel trailer and conduct over 40 meetings each year.
Steve and his wife Mary travel about 40,000 miles, averaging over 40 meetings per year.
Mary is an important part of the team in helping not only with office work, but doing VBS meetings, and preparing meals for many of the tent meetings and revivals they hold each year.
Steve and Mary are active members of:
First Baptist Church
433 N Mississippi St.
Nowata, Ok.74048
Pastor, Wayne Clayton
Phone 918-273-2526