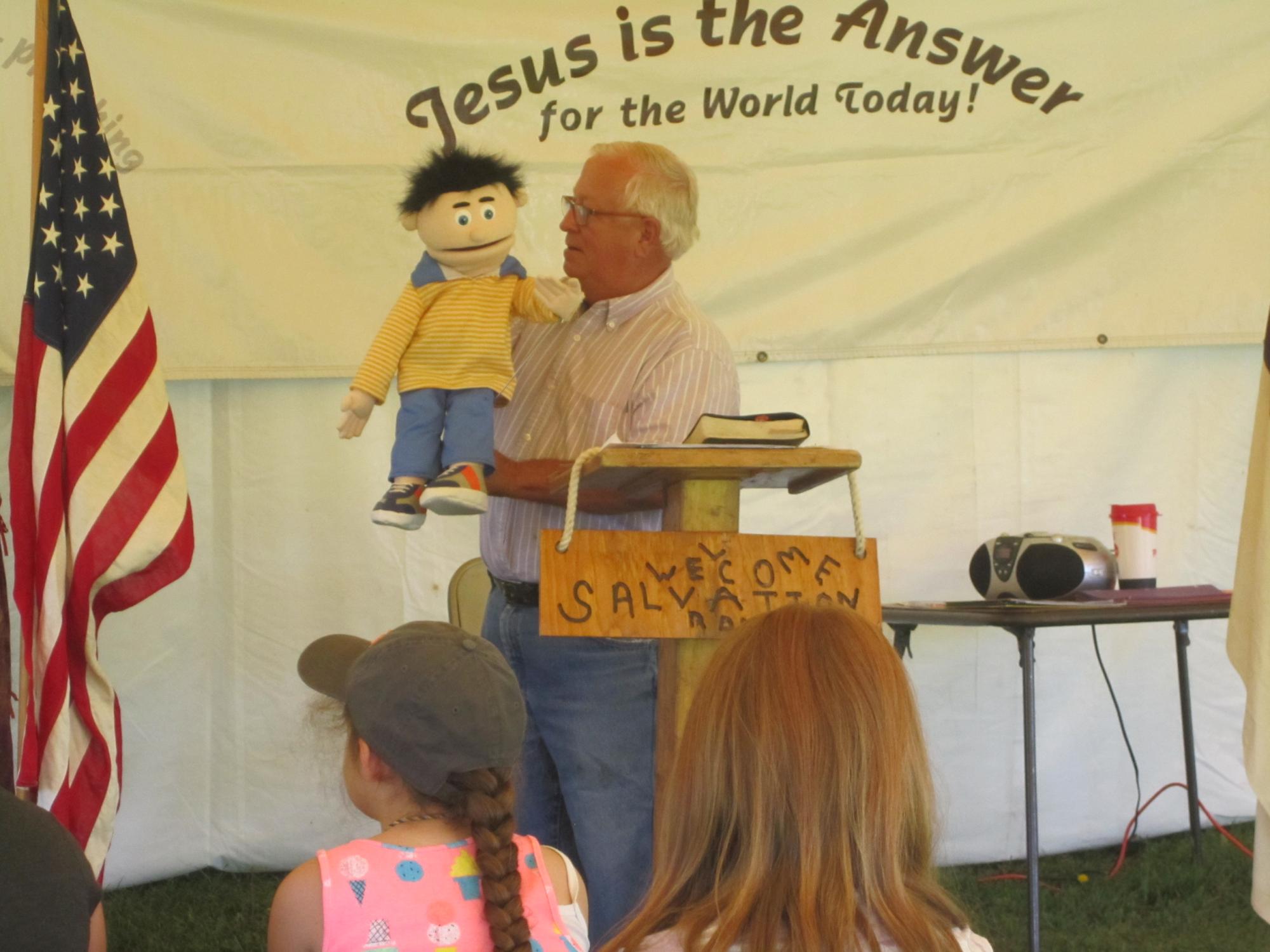 One of the specialized ministries we are involved with: The VBS/TENT MTG.
This is where our team comes to your church and conducts a VBS meeting of the morning, and a Tent Mtg that evening, with the last evening's service a commencement service for the VBS.
Our team will come, furnishing the VBS material, as well as everything needed to conduct the meeting, with a noon meal for the children each day!
Team members, Bob Whitchurch and his sidekick, "Ralphie!" (in the left picture). Other picture is of Bob and is wife Donna. Bob leads music, both sing and help with VBS! They also do Dutch Oven Cooking.
VBS/TENT MEETING MINISTRY
OLD FASHIONED TENT MEETINGS
The old fashioned tent meetings still work to draw unchurched people! With approximately 70 % of the unchurched in the USA, former church members, this could very well make a difference in reaching them to encourage them back into the flock and serve the Lord! Check our information about doing a tent meeting for your church!
POWER POINT PRESENTATIONS
We have many great Bible Studies we can conduct on a range of topics of interest. We have everything we need to preform the study, all the equipment, projector, sound etc.
We often are asked to do these instead of a traditional Winter Bible Study because of the topics are of importance to today's society!
Here is a list of some of the presentations we offer:
The Signs of the Second Coming
America's Spiritual Challenges
Heaven
Christian Persecution
The History of the English Bible
The Rope of Redemption
Teachings and Parables from the Book of Mark
The Book of James
God, Israel and the USA
Doctrines of the Bible
How to Conduct A Prayer Meeting
Dealing With Addictions



Mary Cody, mother, grand mother, great grandmother, great, great grandmother! She also helps with the ministry where needed. She cooks, does VBS, sets up and takes down tents!
J.D. and Lucinda Couch, great team members! She is a great pianist and singer. J.D. also sings, leads music and teaches. They also do Dutch Oven Cooking!